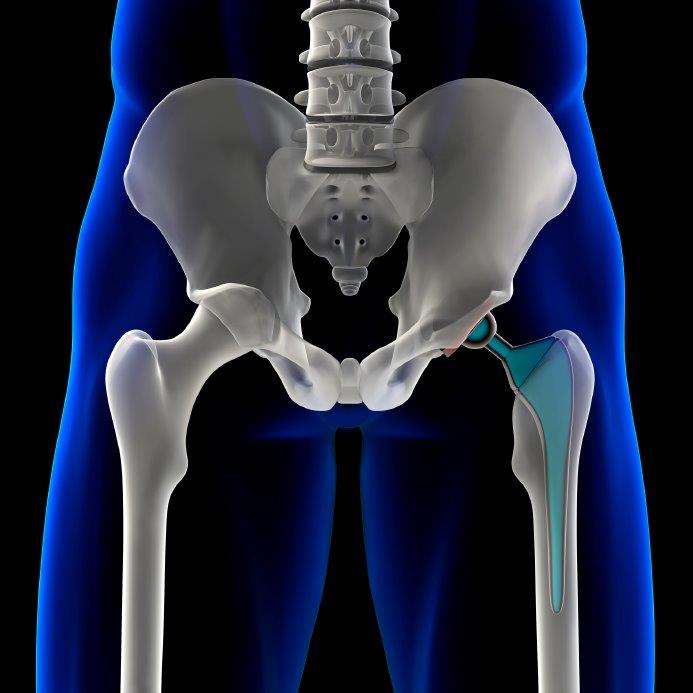 Mr Stephen Jones, Consultant Orthopaedic surgeon, discusses his approach to hip replacement surgery. In addition to his surgical qualifications he has an MSc in Orthopaedic Engineering and is closely involved with hip implant development and evaluation.
Total Health asks ten top hip Consultant Surgeons the following questions:
Q1: Which type of hip prosthesis do you routinely use and why?
"In answering this question I am considering a routine patient as one aged around 67 years (mean age of patient on National Joint Registry of England & Wales undergoing Hip Arthroplasty), and for a diagnosis of Primary Hip osteoarthritis."
"Therefore in the above scenario I would routinely plan to use a Hybrid Total Hip Replacement. This would involve an uncemented acetabular component (socket) and cemented polish tapered stem. The bearing choice thereafter would be ceramic on highly cross-linked ultra-high molecular weight polyethylene (UHMWPE)."
"The actual implants in terms of brand & manufacturer are the Trilogy socket & CPT stem made by Zimmer. The reason is that both of these are ODEP 10A rated implants and I have used these for over 9 years in my practice. Furthermore, the Longevity UHMWPE also has 10-year clinical data rather than simulator data that are available on other products. Independent high quality publications have supported the Hybrid THR as one of the safest options for our patients and in terms of bearing choice again ceramic-on-polyethylene appears most likely to be the safest option on registry data."
Q2: How long have you used this choice?
"As a consultant surgeon for over 9 years and prior to that as a trainee and senior hip fellow."
Q3: Do you use this prosthesis exclusively? If not, please indicate the approximate percentage that you perform using it.
"No, this is not used exclusively. I very much believe in an individual patient assessment not only based on age but also, importantly, activity and bone quality as well as the impact of other conditions that the patient might have. I would estimate that the above Hybrid THR combination represents around 2/3rds of my current primary THR practice."
Q4: If you sometimes use alternative prostheses please specify which type(s) and the approximate percentage of procedures carried out with each.
"This would usually mean a different stem selection in using a cementless femoral stem rather than cemented. This would apply in around ¼ of primary THR cases."
"Regarding bearing choice I also use ceramic-on-ceramic where I believe there is a real need for further reduction in wear (e.g. the very young active patient). Bearing choice may also differ in the use of Dual Mobility Device with patients that are at increased risk of dislocation. This would apply in around 10% of my current practice."
Q5: What procedure do you use?
"I do use custom-made implants for certain patients. The rationale for this is particularly when there is a real patient benefit. The most common example in my practice would be for patients with femoral deformity from previous surgery or trauma. In such instances a straight stem may be challenging or the patient anatomy and the use of a bespoke custom-made device might actually simplify the procedure, limiting risk of complication and complexity."
Q6: If you needed a hip replacement now which prosthesis and procedure would you opt for?
"The answer to this question mirrors my earlier response as I treat patients as I would want myself or one of my family members to be treated. I am currently 43 years old and try to remain active! So I would opt for a ceramic-on-ceramic bearing to benefit from further decrease in wear and I would accept the increased risk of liner fracture and squeaking."
Q7: What over-riding piece of advice/reassurance/guidance would you give to someone who is apprehensive about their need for hip replacement?
"If you are unsure about surgery do not proceed. For the majority of people this is a life style operation that relieves pain and improves function. Very seldom is it an emergency, as such you have time to consider your decision. Once comfortable with the prospect of surgery and your surgeon then proceed. Information is of key importance and your surgeon should be able to answer your questions and address your concerns, or be able to point you in the right direction to gain help."
"The bottom-line that I explain to patients is that whilst the idea of a routine THR is something that exists for hip surgeons any THR is far from a routine event for the patient concerned. A degree of apprehension is a normal response to a major surgical event and there would be something amiss if patients didn't demonstrate this."
See also answers from the following hip replacement experts: