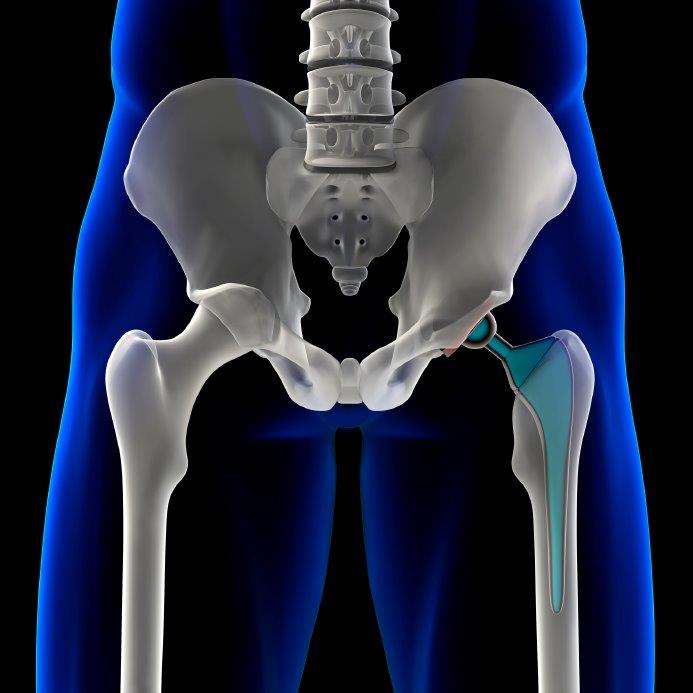 Mr Edward Davis, Consultant Orthopaedic surgeon, discusses his approach to hip replacement surgery and explains how computer navigation assists his surgery.
Total Health asks ten top hip Consultant Surgeons the following questions:
Q1: Which type of hip prosthesis do you routinely use and why?
"I use the Synergy uncemented stem, R3 uncemented acetabulum and a ceramicised (Oxinium) head with a modified polyethylene liner (XLPE). All sold by Smith and Nephew."
Q2: How long have you used this choice?
"9 years. The R3 is the updated Reflection acetabulum so prior to using the R3 I used the Reflection acetabulum."
Q3: Do you use this prosthesis exclusively? If not, please indicate the approximate percentage of procedures that you perform using it.
I use the Exeter stem in patients when I am concerned about the geometry of their femoral canal.  This is usually patients with severe osteoporosis.  90% of the hip replacements I undertake are uncemented.
Q4: If you sometimes/regularly use alternative prostheses please specify which type(s) and the approximate percentage of procedures carried out with each.
"I very occasionally perform Birmingham Hip Resurfacing in male patients with relatively normal anatomy, however the numbers are small (2%); due the anxieties over malignancy in the future and tissue damage from the metal particles."
If you regularly use more than one type of prosthesis what informs your decision on which to use?
"I do perform the corail/pinnacle uncemented hip replacement (Depuy) as this was the NHS hospitals choice of implant."
Q5: What procedure do you use?
"I use computer navigation to position the hip, to reduce the errors in acetabular position and leg length. There is strong evidence (met analysis of randomised control studies) to show that computer navigation improves acetabular component positioning yet this technology is still not widely used.  Acetabular position is important both to prevent dislocation and its' impact on the hip wearing out early.  Leg length is very difficult to get precisely correct after hip replacement and is the most common reason for litigation in the US as it causes problems for many patients.  The computer is able to measure leg length very accurately to avoid this complication. I have been closely involved in the development of this technology in an effort to encourage more surgeons to use it in an effort to improve the outcomes of more patients."
Q6: If you needed a hip replacement now which prosthesis and procedure would you opt for and why?
"I would choose a Synergy uncemented stem, R3 uncemented acetabulum and a ceramicised (Oxinium) head with a modified polyethylene liner (XLPE) undertaken using computer navigation by an experienced hip surgeon.  This bearing combination shows fantastic results in the Australian Joint registry (https://aoanjrr.dmac.adelaide.edu.au/home).  The data is now available up to 9 years for this combination and continues to show it performs better than the other combinations such as ceramic or metal on modified polyethylene http://www.rediscoveryourgo.com/verilasthip.aspx#locator.  This is most probably due to the fact that the femoral head is as smooth as a ceramic but does not fracture like traditional ceramic can. The modified polyethylene liners are very good at resisting wear without the risk of fracturing and squeaking, which you can get with ceramic (there is a risk of modified polyethylene fracturing if the surgeon uses a very large femoral head and the acetabulum is mal-orientated, therefore I most commonly use a 32mm head and use computer navigation to ensure optimal acetabular orientation). I would want the hip inserted with the use of computer navigation to ensure optimal acetabular component orientation and ensure my leg lengths are perfect."
"I would ensure I had an experienced hip surgeon working in a specialist centre to perform the surgery. We know that surgeons who only perform small numbers of hip replacements i.e. less than 50 per year have worse outcomes. http://www.njrsurgeonhospitalprofile.org.uk/SurgeonProfile?gmccode=4285245. Surgeons working in specialist centres often operate on high numbers of cases and have the experience of dealing with complex cases."
"I would ask the surgeon, which approach to the hip they use. I use a posterior approach as it demonstrates excellent results. I would be nervous of having the surgery performed through the "anterior approach" as there is no good evidence to suggest that it is any better than the posterior approach and yet the complications of it have been clearly shown to be higher. Therefore, why have the hip performed through an approach, which has a higher complication rate without any good evidence of a benefit. I would also not want my hip performed through a very small incision (minimally invasive hip replacement) as the complication rates are higher."
Q7: What over-riding piece of advice would you give to a patient about their need for hip replacement?
"Although hip replacement is a major undertaking and carries the risk of having problems, the most frequent complaint that I get from patients is "I wish I had this done a long time ago, you don't realise how bad the pain was until it has gone!"
See also answers from the following hip replacement experts: