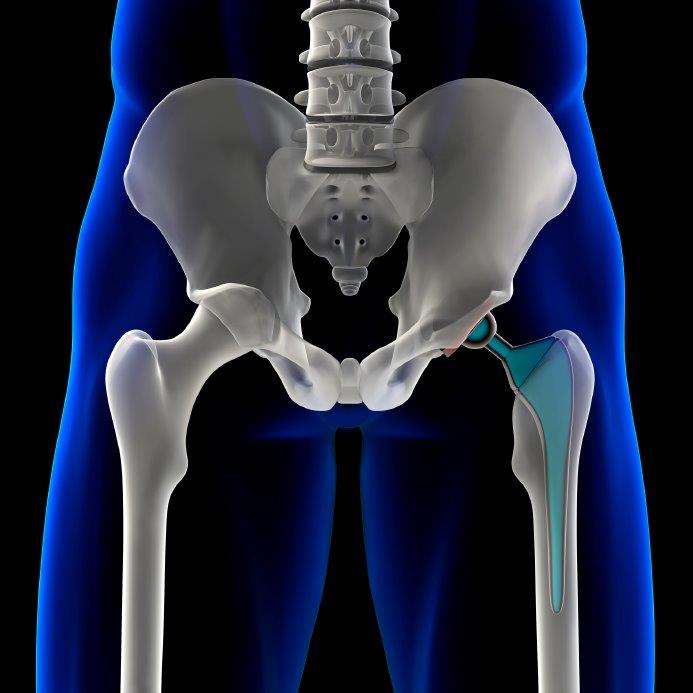 Mr Howard Ware, Consultant Orthopaedic Surgeon, discusses his approach to hip replacement surgery and assesses how to minimise risk and complications 
Total Health asks ten top hip Consultant Surgeons the following questions:
Q1: Which type of hip prosthesis do you routinely use and why?
"I routinely use the CPT femoral component and the Triology acetabular component managed by Zimmer Orthopaedics.  Typically, I will use a polyethylene liner made of cross linked polyethylene.  The femoral component is cemented in site in place but the acetabular component is press fitted in place and the bone grows on the outer surface."
"I use this because it is now a proven safe implant with an excellent track record of success."
Q2: How long have you used this choice?
"I have used this implant for almost 20 years."
Q3: Do you use this hip prosthesis exclusively?
"Nowadays I do"
Q4: If you regularly use more than one type of prosthesis what informs your decision on which to use?
"In choosing an implant, there are a number of factors to look for.  One is that there are no risks involved.  One of the risks of using an uncemented femoral component is that the femur can crack or break. It is also not suitable for all ages whereas the cemented component can be used at any age."
"The second consideration is the articulation of the bearing.  This is essentially a plastic or polyethylene bearing, which has a very low failure rate especially with new cross link polyethylene."
"When it does fail, the failure is slow and it is rare that the femoral component will need revision.  It is usually just a matter of just revising the acetabular component."
"The UK government has rated implants with a number and a letter.  The number refers to the number of years the implant has been in large scale use and the letter refers to the fact of whether there is any documented evidence to support its efficacy."
"The CPT is rated as a 10A which is the best rating an implant can have and the Triology cup should this year achieve the same status.  Unlike other articulations, particularly metal on metal, there is no risk of local damage to other tissues when this fails.  I have used other implants and sometimes use a non-cemented femoral component but frankly I have come around to the view that this implant is safe, durable and has no local risks to the patient.  Occasionally, one can use ceramic on ceramic bearings, but the evidence suggests that the new cross link polyethylene bearing behaves like ceramic and there is little to be gained by using ceramic on ceramic bearing in most cases.  There is a very small risk of fracture with ceramic bearings (.1%) and some of these implants make a squeaking noise that the patient can hear."
Q5: What procedure do you use?
"I have tried various surgical approaches including two incision minimal invasive surgery.  I have returned to a single, small lateral incision, which gives excellent exposure and is safe to use with minimal complications."
Q6: If you needed a hip replacement now which prosthesis and procedure would you opt for?
"Like many surgeons, I have often wondered which implant I would choose if I had to have a hip replacement.  I have often taken the view that I would choose the surgeon first and the implant second.  However, I think I am now of the view that I would choose a surgeon I trust who uses this particular implant because I know its success and complication rates are low."
Q7: What over-riding piece of advice would you give about hip replacement?
"I think it is very difficult for a patient in deciding who should replace their hip and which implant they should use.  I am very happy with patients who have come in and reviewed this and looked up articles on the Internet.  However, very few people have a clear understanding of the mechanics involved and they do not always understand why one material is better than another.  I would counsel people to say they are not to have the newest experimental joint on the market.  Let someone else be the guinea pig.  I think the metal on metal hip situation has clearly demonstrated it is best not to be the first patient having the new operation and that longer follow up is of value."
See also answers the following hip replacement experts: