Twenty-five Harley Street, a new clinic has opened its doors on Harley Street, the area of London most associated with all things medical.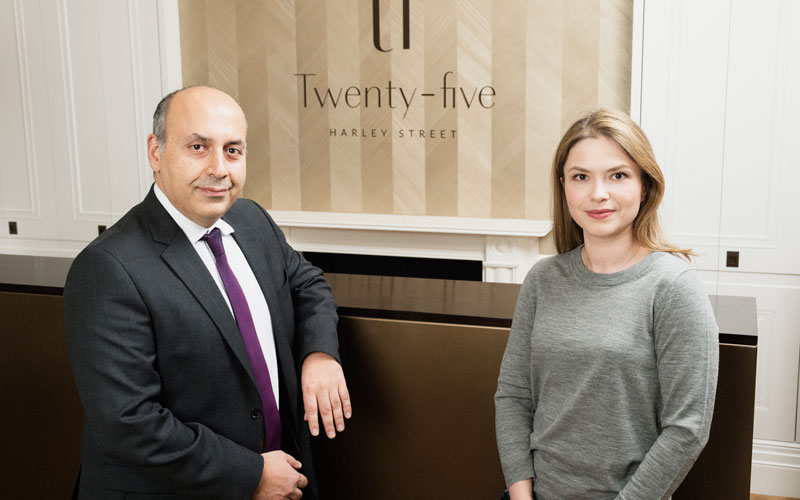 So, what's new about this clinic? According to entrepreneur and businesswoman Anna Tigipko who has opened Twenty-five Harley Street, a wide variety of diagnostic tests are offered all under the same roof – a point of difference compared to many of the other practitioners on Harley Street.  
Miss Tigipko says, "Harley Street has the best reputation for quality medical services, however, we cannot be complacent and it is critical to adopt integrated, consultant-led approaches based on the changing needs of discerning patients."
Patients can see a Consultant and complete any necessary tests and health checks all in one visit – an attractive proposition, points out Miss Tigipko, "Patients rightly assume that they will get the very best consultants at Harley Street,' she says. "However, the whole strategy for the design and development of our new day case clinic has been driven by our desire to provide patients with the fully-integrated services they need within a sumptuous clinic. One that is equipped with the latest on-site diagnostics and treatment technology".
This specialist women's clinic has benefited from considerable investment and is equipped to the highest standards.
The clinic provides on-site diagnostics including the latest Fuji digital imaging, a full body DEXA scanner and a pathology laboratory.
There is also a fully-equipped treatment room at Twenty-five Harley Street, so patients can have ambulatory gynaecological procedures performed within the clinic. These include colposcopy and the Monalisa Touch®, a laser treatment for vaginal atrophy.
The team of consultants and GPs at Twenty-five Harley Street is headed by Medical Director and Consultant Rheumatologist Dr Stephanie Kaye-Barrett, formerly the Clinical Lead Rheumatologist at the Chelsea and Westminster Hospital.
A member of the Council at The Independent Doctors Federation (IDF), Dr Kaye Barrett was previously part of the BMA private practice committee and has been named as one of the top consultants in the UK by Tatler magazine.
Dr Kaye Barrett has handpicked the doctors and medical professionals practising at Twenty-five Harley Street for both their clinical expertise and integrated approach to treating patients.
The team includes Miss Tania Adib. The Consultant Gynaecologist is also Lead Clinician for Gynaecological Oncology and Colposcopy at Queen's Hospital.
Professor David Reid, Consultant Rheumatologist and Emeritus Professor of Rheumatology at the University of Aberdeen. Professor Reid is an internationally recognized expert in the field of bone health and DEXA.
Mr Ash Mosahebi is Consultant and honorary senior lecturer at the Royal Free and University College Medical School in London. Expert in body sculpting and breast reshaping he is also Deputy Editor of the Journal of Plastic, Reconstructive & Aesthetic Surgery.
The clinic also offers a GP service as well as nutritional and emotional wellbeing expertise.
Close examination of the cervix of the uterus using a magnifying instrument with attached light source, known as a colposcope.
Full medical glossary
The muscula passage, forming part of the femal reproductive system, between the cervix and the external genitalia.
Full medical glossary