A phase III trial conducted by the Institute of Cancer Research (ICR) and the Royal Marsden NHS Foundation Trust has found that a new hormone treatment, known as enzalutamide, could be a successful treatment for advanced prostate cancer. The results of the trial were presented this week at the 2012 Annual Meeting of the American Society of Clinical Oncology (ASCO).
Over 1000 men with metastatic castration-resistant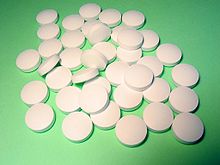 prostate cancer participated in the trial to assess how enzalutamide could prolong life and improve quality of life. Almost half of the men in the trial found that their quality of life had improved in comparison to only 18% of men taking a placebo.
The hormone therapy was found to have no side effects and prolonged life for an average of 5 months in comparison to those participants taking a placebo. Professor Johann de Bono, from the Institute of Cancer Research, wrote that the:
Enzalutamide was not only keeping men alive for longer, but for some it was also improving their quality of life. Some patients had been reporting significant pain and so this result is very pleasing. The success of this trial could give doctors a valuable new treatment option, which is sorely needed as men with advanced prostate cancer have few therapies available to them.
In related news, another phase III trial carried out at the UCSF Helen Diller Family Comprehensive Cancer Center has shown effective results in preventing the spread of metastatic prostate cancer using abiraterone acetate. The drug was found to prolong life and ease the pain associated with prostate cancer. The final results of the trial will be released in 2014 but interim results were so positive that those patients being treated with a placebo were moved onto the abiraterone acetate.
Professor Agamemnon Epenetos has written about the latest progress in the treatment of advanced prostate cancer.