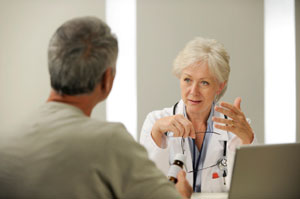 Monitoring prostate cancer results in the same 10-year survival rate as treating it with surgery or radiotherapy, a new study suggests.
The UK trial looked at 1,643 men with small prostate cancers that had been detected by testing for the chemical prostate-specific antigen (PSA). They were either actively monitored, had surgery to remove the prostate or radiotherapy to destroy the tumour. The men were then followed for 10 years. The results showed  the same 99% survival rate after the decade for those who had had surgery, radiotherapy or simply monitored the tumour but treatment increased the risk of side effects. There was double the risk of incontinence and problems with sex in those having surgery. Radiotherapy increased the risk of bowel problems.
However, the prostate cancer did progress in one in five cases with monitoring alone. These men could be treated, but it may affect their long-term survival beyond the 10-year study.
Active monitoring involved regular clinic visits with physical examinations of the prostate, periodic biopsies and blood tests for PSA, to measure whether the disease was worsening.
The researchers warned too many men were having procedures that damaged their sex life and caused incontinence.
"I can counsel patients better now," Dr. Freddie C. Hamdy, a leader of the study from the University of Oxford, said in an interview. "I can tell them very precisely, 'Look, your risk of dying from cancer is very, very small. If you receive treatment you will get some benefit. It will reduce the disease from growing outside your prostate, but these are exactly the side effects you might expect."
The study was backed by the research wing of the NHS, the National Institute for Health Research, and published in the New England Journal.