Why I stopped going to the gym
I loved going to the gym. Meeting up with my son, we would usually go for a highly sociable session to train and chat. I would recommend sessions with our personal trainer John, to anyone serious about wanting to get in shape. We combined weight training and cardiovascular with various forms of martial arts. Within the first few months I went from a stressed-out, obese executive, with chronic lower-back pain to a fully functioning person. John is a former UK karate champion, who motivates and inspires his clients. I can safely say that I would not have kept up the training sessions if it hadn't been for his powers of motivation.
"There's no wind!" Kev (pictured above) at Hythe & Saltwood Sailing Club 
The biggest challenge for all busy people is to have the nerve to protect that diary slot and the time needed for yourself either at the gym, playing your sport, out walking, doing yoga, or mindfulness - or for all of these.
Getting honest about cheating
My job is stressful. It involves a long commute and many hours in an office, usually stuck in front of a screen. Combine this with a healthy appetite for fast food, snacks, and those disgustingly delicious hot tasty beverages from the well known coffee outlets, and I would otherwise be coronary carnage waiting to happen. So, not going to the gym was a lifestyle decision that caused some sleepless nights. There had to be a seriously good reason to take such profound action. But by then I had met a curvaceous syren and all attempts at resistance were useless. My mistress was an elegant beauty in her mid-twenties, with curves where curves are meant to be. She was built for speed and I had permission to come alongside.
Permission to come alongside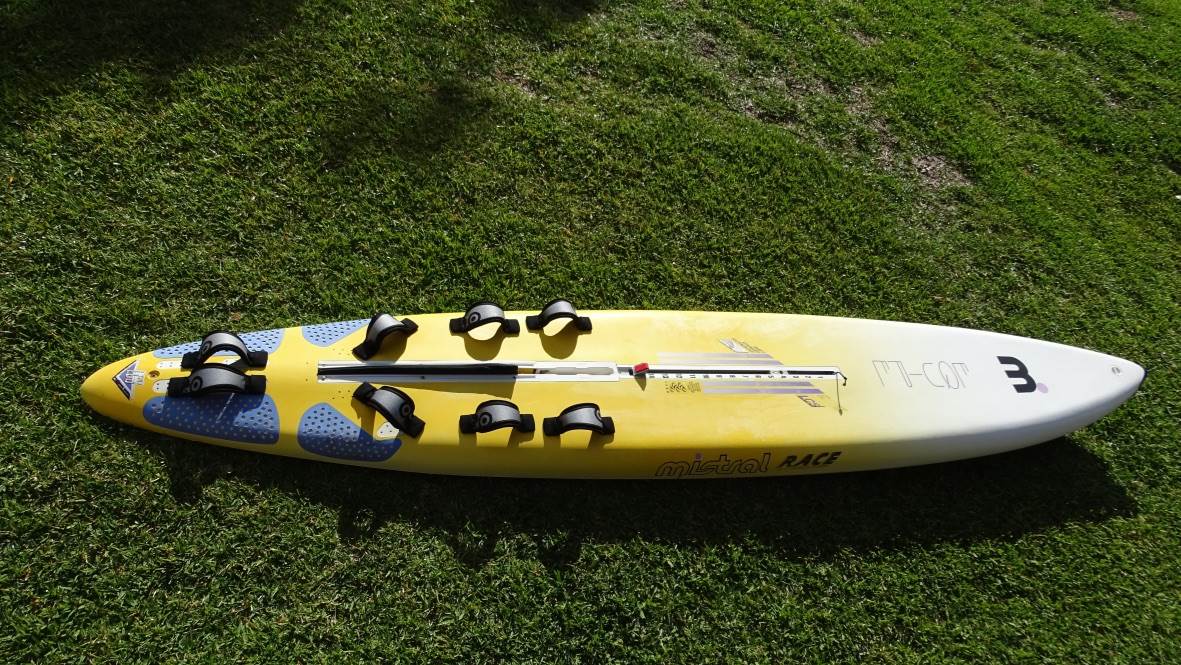 To begin with, I tried seeing them both, but the physical and emotional demands were too high. In addition to the sessions themselves, both forms of exercise require time for muscle and tissue recovery. You learn quickly that the concept of 'recovery time' is not just a concept - it is essential, and there simply are not enough hours in the week to indulge in both, do a job and keep your wife! Whereas a gym session is usually kept to an hour, and so fits into the diary better, windsurfing is a more complex form of relationship. Getting out on the water depends to a certain extent on the weather and requires pre- and post-activities. Windsurfing is undoubtedly more involved in terms of kit and meteorological knowledge, but the rewards outstrip anything possible in the gym. Sorry John!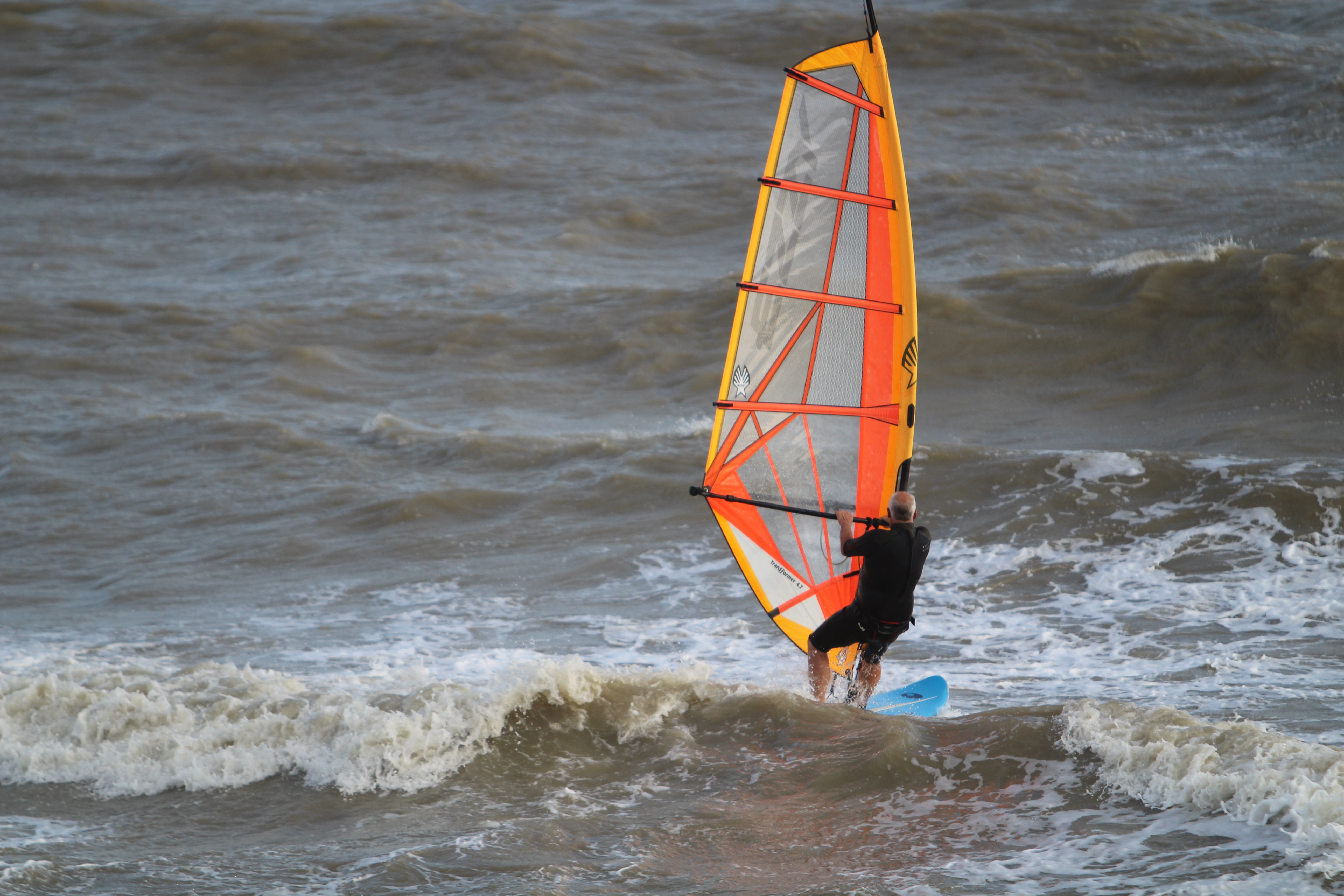 UK Waters
In terms of sheer joy and outcome, there is no comparison. Why on earth would anyone want to gain by inflicting pain on themselves inside a building, when the outdoor alternatives are so exhilarating and attractive?
Sailing in December
I mentioned dependency on the weather, but there are really very few restrictions in reality, even for warm-blooded people like me. I don't like the cold. As I found out for myself last year it is possible to windsurf every month of the year in the UK. There are conditions to suit every taste - from the happy-blaster to the storm-looper. There are ranges of wetsuits that are so good these days that it is hard to get cold unless you are hanging around, but why would you hang around? Last weekend, I was scraping the ice from the car windscreen, but the sun was shining and, despite a couple of unplanned plunges into the sea, there was never any risk of feeling cold. Here in the UK, we live on an island, and the sea is free. If you live inland, no problem, you are probably near a lake.
From maelstrom to mill pond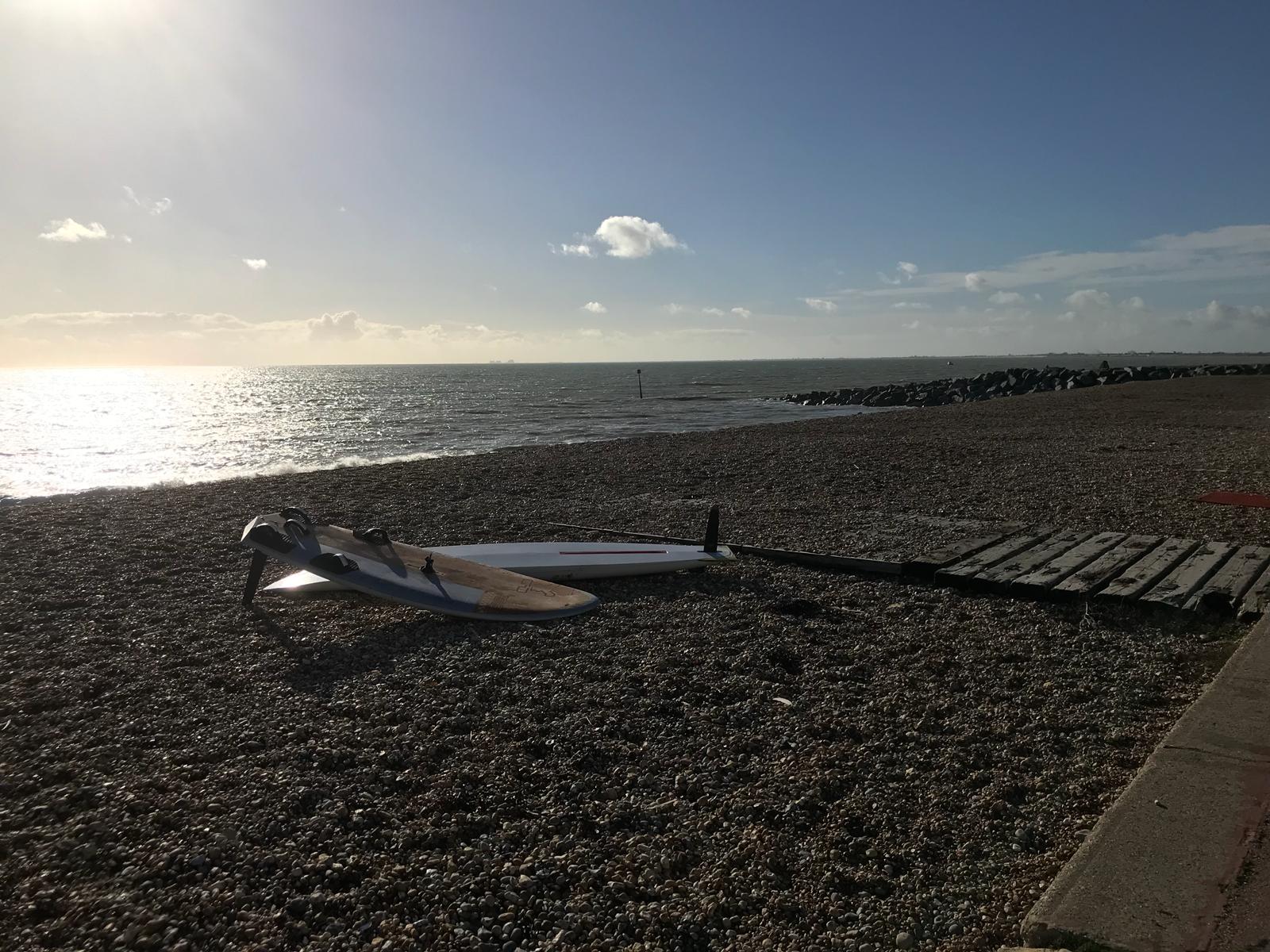 There are boards and rigs for every condition. The biggest complaint you will hear from any windsurfer about the weather, even in what would be a strong breeze to a normal person, is: "there's no wind". However, the truth is that these are generally adrenaline junkies who tend to stick to sailing a shorter form of board (appropriately named a 'short board') and which will sink, unless they are zipping along. The more mature windsurfers also keep a longer form of board (a 'long board') and who have just as much fun planing (explained in a moment) and sailing in all directions even in light winds. There is joy in trying both forms, and most windsurfers have long and short board optional extras fitted in the car.
If you haven't experienced it yet, then you need to understand the joys of planing (or hydroplaning). Planing is when the board starts to skim over the surface of the water, and is akin to flying. It is the ideal form of windsurfing as it feels stable, is fast, gives more control, and is one of the best feelings on earth. Obviously, you are not on earth, and you are not even on water, you are weightless in your harness and on air.
We all live in a natural playground
Like millions of others, we are lucky enough to live near, and work in London. Specifically, I live more in the 'Kent end' of London (otherwise known as the South East of England) and this means that we are immediately surrounded by water on three points of the compass (four if your sat nav shows Bewl Water). This means that we effectively live in a massive and natural playground, and that the world is our oyster. Even if you don't live in Kent, you are probably still near water. Is it any wonder the Romans and the Vikings liked it here so much, and if I know my history they didn't even have short boards (or wetsuits). So, why there are so many people missing out on experiencing our atlantean planing nirvana is a mystery. I mean, why spend all that money in a claustrophobic, sweaty room when you can have fun out on the waves instead? Again, sorry John.
"Ah!" I hear you say, "but going to the gym gives me all the exercise I need, which I don't suppose windsurfing does". Well, according to the Royal Yachting Association, in their 'Windsurfing Fitness Facts' section:
Windsurfing uses all of your main muscle groups, especially gluts, hamstrings and quads. By windsurfing you will tone your back, your arms, your legs, and last but not least, your stomach – kiss goodbye to your belly! 
Learning to balance on the board builds your 'core stability', engaging your deep postural muscles, strengthening the muscles that give you the definition of a waist! 
If you fall in while learning, don't be disheartened, falling off the board means you are constantly pulling yourself out of the water which works your arms and increases your calorie output, while toning your arms!! 
The average recreational windsurfer burns around 500 calories an hour, with an average a heart rate range of 110-175 bpm. 
The RYA highlights their 'top fact' that: "Olympic Medallist Nick Dempsey is believed to have aerobic fitness similar to that of a marathon runner". 
Recovery time to heal and grow
Anyway, sailing club propaganda aside, and talking from my own personal experience, I can actually concur with everything stated above, and not just the falling-in bit. Over the past eighteen months of learning to windsurf, it seems to me that the falling-off bit is all part of it too. I needed that specific, early exercise to build the necessary muscle groups to improve endurance. The one thing, however, about which I would warn anybody of my age returning to sport after a thirty year break, is to build up slowly. This is easier said than done. The trouble is that this sport is too much fun, and you do not feel the pain as your muscles and joints start to feel their strength again, but you will feel it afterwards. Do not underestimate the need for recovery time; muscles need time to heal to grow.
Warm up exercise
Most windsurfers are aware of the need to warm up prior to heading out on the water and this activity possibly becomes more important with age. As sporting injuries expert, Dr Ralph Rogers points out, "Warming up properly prior to engaging in sport is thought to decrease muscle stretch injuries because the muscles are more extensible when the tissue temperature has been increased by a few degrees above normal. A good warm up should last at least twenty minutes, starting at a gentle pace before increasing to full activity." Dr Rogers also stresses the need for a cooling-down period, "Similarly to the practice of warming up, a cooling-down period must also be encouraged as this can help with the transportation of waste materials from muscles and helps with preventing injury or re-injury."
Taking professional sports health advice
There are obviously risks involved with any sporting activity. With waterspouts you can throw in the risk of drowning. As we age, these risks do not get any smaller. It is therefore thoroughly recommended that prior to setting out on a vigorous campaign to get fit or back into shape that advice is sought from an expert windsurfer, such as HSSC Club Commodore, Marc Carney (pictured), your own doctor and / or from musculoskeletal and sports specialists such as Professor David Reid, Rick Miller and Dr Ralph Rogers.
Picture (right) - Former European Windsurfing Champion and HSSC Club Commodore, Marc Carney pictured teaching new members on Hythe beach.
Windsurfing is also highly dependent on sea and weather conditions and so you should always seek advice from local experts on where and when to head out. Due to tides and waves, it is generally advised to start learning on still water lakes. However, you will generally get far cleaner wind at sea with an on-shore breeze.
What kit do you need?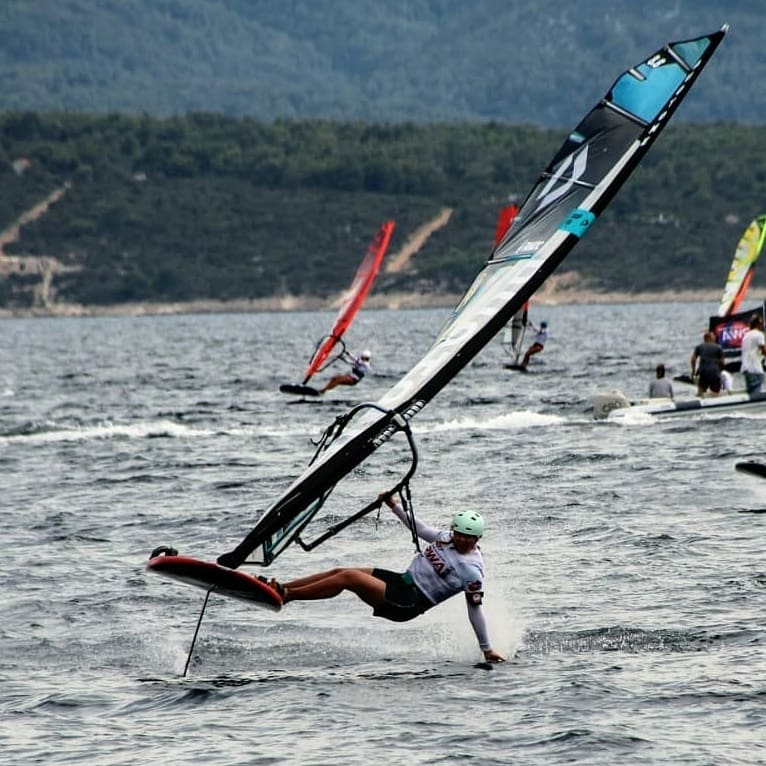 Rule number one: is do not go out buying new kit, until you have taken advice and trying out lots of different boards and rigs, in order to see what suits you. There are plenty of sailing clubs and windsurfing centres who will help and advise you, such as Hythe and Saltwood Sailing Club on the South Coast of Kent, who, due to their windsurfing heritage, including windsurfing legends like Stu Hards, Marc "Carnage" Carney and the current World Champion and 'Windsurfer of the Year' Jenna Gibson (pictured), have plenty of different pieces of kit, for you to try out before making any more permanent decisions.
Hythe & Saltwood Sailing Club provides some of the best conditions for advanced windsurfing in the UK and can also be contacted via enquiries@hssc.net