The latest stereotactic body radiotherapy treatments (SBRT) for prostate and advanced lung cancer are being delivered significantly faster than before thanks to the latest radiotherapy instrumentation. For lung SBRT, treatment delivery times are down to less than two minutes on average, which is good news for patients.
Latest Stereotactic Body Treatment - Versa HD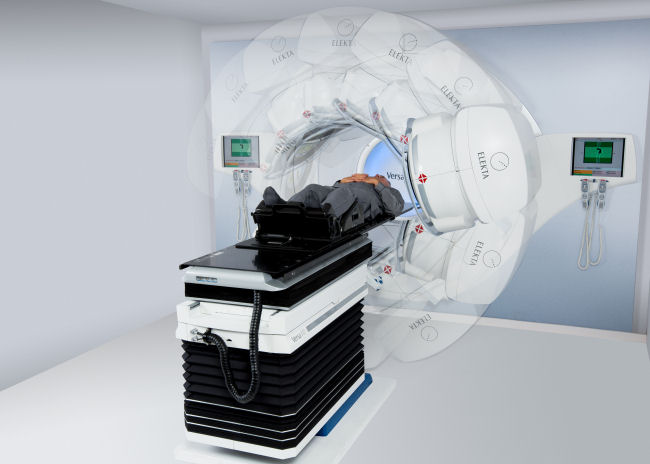 Designed in close collaboration with clinicians, the new instrumentation called Versa HD provides advanced radiotherapy techniques that enable high precision treatment in managing a range of cancers in the head and neck, lung, breast and prostate. It has the ability to continually reshape the radiation beam to the fine contours of the tumour so a higher dose of radiation can be delivered.
Cancer Centre London (part of Aspen Healthcare) will be the first oncology provider in London to use Versa HD, which will come into service at the centre later in the year. Aspen Healthcare CEO, Des Shiels, says: "Cancer Centre London (part of Aspen Healthcare) is delighted to announce a major investment in its radiotherapy service provision as part of its commitment to delivering the highest standards of care to its patients. Cancer Centre London will be the first oncology provider in London to have Elekta's Versa HD linear accelerator."
Cancer Centre London
Cancer Centre London is widely acknowledged as a 'Centre of Excellence' that attracts expertise from recognised leaders within the medical profession. Its dedicated and responsive radiotherapy team (of Consultant Clinical Oncologists, Radiographers, Clinical Scientists and other healthcare professionals), provides a personalized and evidence-based radiotherapy service that ensures the highest standards of patient care are maintained throughout the course of a patient's treatment.
Reference: A Vision for Radiotherapy' NHS England https://www.cancerresearchuk.org/sites/default/files/policy_feb2014_rad…