Researchers from the University of Southern California in Los Angeles, USA have written about how Inflammatory Bowel Disease (IBD) is a major risk factor of colorectal cancer. They have identified the key receptor involved in the growth of cancerous tumours and are developing treatments to target this receptor.
Colorectal cancer, often referred to as bowel cancer,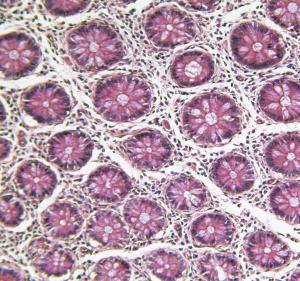 is more common in patients experiencing related inflammatory bowel conditions such as ulcerative colitis and Crohn's disease. The Crohn's and Colitis UK charity identifies other colorectal cancer risk factors as smoking and a family history of the disease. They point out that if the symptoms of bowel cancer are diagnosed early enough, there is a good chance of curing it. The new research from the USA suggests that by promoting the growth of the receptor, known as an epidermal growth factor receptor, bowel inflammation can be better controlled and this can prevent the development of tumours in the gut.
Further research will need to be completed to see how promotion of the epidermal growth factor receptor will affect patients suffering from ulcerative colitis and Crohn's disease although it is hoped that this targeted treatment will reduce long-term cancer risk.
Bowel cancer expert from University College Hospital London, Mr Austin Obichere, had the following comments about the research:
The result of this new research finding is yet another small, but significant step in identifying one of the protein molecules or receptors that are known to promote the development of bowel cancer in patients with inflammatory bowel disease. The next logical step is how we can target this receptor using novel therapies or drug agents. However, a word of caution is that epidermal growth factor receptor may not be the only molecule promoting the development / progression of cancer in this cohort of patients given the heterogeneity of the disease and further research will be required in this area.
For further information read Treatment strategies for colorectal cancer by Mr Austin Obichere.