Due to the range of treatment options available to treat

cancer

, a

multidisciplinary

team (MDT) approach is usually needed to assess each case. Until recently surgery had been the only option for treating cancer of the

liver

and

pancreas

however, due to the complexity and proximity of these organs to each other and other vital organs, surgery is often simply not

viable

. Professor Leen illustrates the potential for Nanoknife with this highly appropriate case study of his patient Mrs MR.
NanoKnife Case Study
Mrs MR was a 38 year old lady who had been previously operated on but who had worsening and highly involved liver cancer. This was a very serious and complex case. The full medical description of her condition was that she had "recurrent
progressive
liver
metastases
, a year after having had a previous right hepatectomy for rupture of the adrenocortical liver metastases and an attempt to repeat a
resection
of the new liver metastases failed".
Local Ablative Therapy - no other treatment option
At the time, Mrs MR was clearly not responding to the usual choice of drugs, namely,
systemic
therapy with Mitotane. It was therefore decided by the multi-disciplinary team (MDT) to proceed to a more direct approach to remove the
tumour
or "local ablative therapy", as there was no other treatment option.
The main challenge was to remove a 6.5 cm
metastasis
in an area of the liver that lay under the lung "the left sub-diaphragmatic area"; it was also under the left
ventricle
of the heart and so was alongside the left
hepatic
vein
and one of the main body veins - the
inferior vena cava
. There are a number of ways that surgeons can ablate material and the first attempt at ablating this large metastasis was with conventional radiofrequency ablation (RFA), but due to the inadequacies of RFA in this situation and a lack of precision with this technology it was unfortunately not possible to completely remove all the tumour material.

Multiple Needle Electrodes into the Ablation Zone
As a result, it was decided to try to use NanoKnife. This involved the placement of multiple needle electrodes into the ablation zones to cover the tumour itself plus the precise desired surgical area. Despite the location of the metastasis being so close to the heart and major
blood
vessels, the procedure was successful and uneventful. Mrs MR made a full recovery and was discharged the following day.
Complete Recovery

A subsequent
CT

scan performed six weeks later showed significant involution (reduction in size) of the ablated zone with approximately 50% reduction in size (Figures 1A & 1B).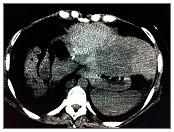 Perhaps more importantly, all blood vessels that had been supplying the tumour had been destroyed (this is known as devascularisation, which is a critical step in ensuring that the tumour cannot grow back again). Fifteen months later and at follow-up there had been no recurrence, or return of the tumour.