Journalists and doctors mingled at the launch party of new day clinic, Twenty-five Harley Street last week.
Medical Director of Twenty-five Harley Street Dr Stephanie Kaye-Barrett laid out her vision for the clinic, and explained to the assembled audience, which included the clinic's founder Miss Anna Tigipko, what makes the clinic different from others.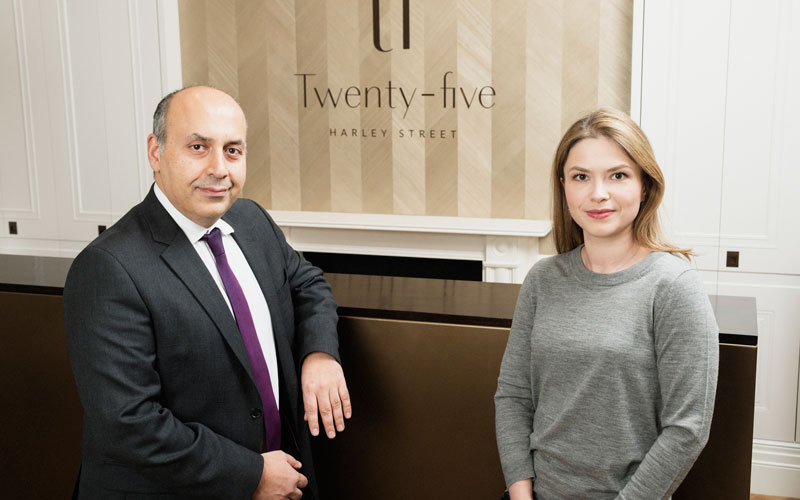 She said: "Twenty-five Harley Street Day Clinic is different. We are not simply a collection of consultants, we are a day clinic that practises integrated medicine.
"We work together, collaboratively for the good of the patient. Although we're all specialists in our fields, we recognise that illness cannot be treated in isolation."
The unique nature of the clinic
General Manager Bob Davidson also spoke about the unique nature of the clinic: "We offer superb care for every step of the patient's experience. At primary care, we have a GP service available seven days a week.
"Our state-of-the-art pathology lab can supply results speedily and patients can have the most up-to-date DEXA scan available, with no wait, plus expert analysis."
He added: "For secondary care, our consultants are among the top doctors in the country, many have international reputations for excellence and knowledge.
"In terms of tertiary care, we offer super-specialisms such as Professor David Reid, who has an international reputation for his work on bone scanning and osteoporosis. We also have nutritionists with expertise in sports nutrition, weight management and eating disorders. Our Emotional Well-being service has highly-experienced counsellors and psychotherapists to help."
Stae-of-the-art facilities at Twenty-five Harley Street
Journalists were informed about the state of the art facilities, such as the on-site pathology lab for speedy diagnoses of blood tests and the visionary suite, a next generation automatic positioning digital radiographic x-ray room system.
Patients can have a DEXA scan at their convenience and speedy diagnosis of osteoporosis risk with analysis from Professor David Reid. Health conscious patients can also find out about whether they're carrying dangerous amounts of fat with a full 'Advanced Body Composition' capabilities for measurement of total fat in the trunk region, as well as a CoreScan option, to identify whether this fat is stored around vital internal organs.
Office gynaecology
There is also a fully-equipped treatment room where patients can have day procedures done including ambulatory gynaecology (sometimes referred to as office gynaecology), which allows women to have treatment for fibroids and endometriosis. Previously, women would have needed an overnight stay in a hospital for these procedures.
The expertise of the Gynaecology team - headed by Miss Tania Adib and including Mr Francis Gardner and Mr Pandelis Athanasias – along with the new technology available at Twenty-five Harley Street allows women to walk into the clinic, and walk out in the same day.
Range and breadth of services
Consultants from each discipline demonstrated the range and breadth of services of each discipline and speciality to the assembled press.
Highlights from the presentations included:
Professor David Reid on the latest innovations in bone health and body composition reading
Miss Tania Adib's discussion about the high success rate of the MonaLisa Touch laser treatment for

menopause

-related vaginal

atrophy

and dryness
Head of Aesthetics at Twenty-five Miss Effie Katsarma presentation about her philosophy and the treatments offered at the clinic, which include PRP and Hyaluronic acid
Mr Ash Mosahebi and Mr Maroon Mann's presentation about the Cosmetic Foot Clinic, which will be resident at Twenty-five Harley Street
Dr Dmitri Popelyuk's explanation concerning the ethos behind the Detox programme available at soon-to-be-open sister clinic Serena House
Update: This clinic is now operated by Phoenix Healthcare