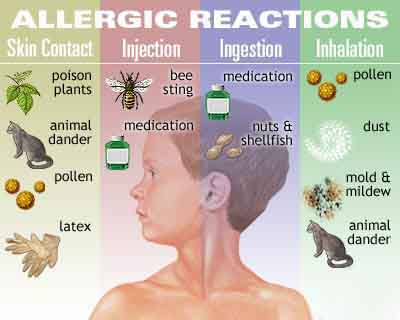 The number of hospital admissions for allergic reactions and anaphylactic shocks in England has increased by more than a third in the past five years.
Data from NHS Digital shows there were 29,544 hospital admissions in 2015-16 for allergic reactions. That compares to 22,206 admissions in 2011-12.
Doctors say rising levels of cleanliness have lowered people's natural resistance to bacteria and dust which cause common allergies.
"The fact that we're living in a much cleaner world than a hundred years ago is the main factor behind the rise in the number of admissions for allergies," Dr Donald Hodge from the Leeds Teaching Hospitals Trust said.
"We've seen a huge increase in the number of referrals for children who have developed allergies, and this is undoubtedly because living in a cleaner world has lowered our ability to build up a resistance to substances like dust and pollen."
NHS Digital will formally publish figures in November illustrating a steady rise in the number of hospital admissions where the primary reason for admission was due to an allergic reaction or anaphylactic shock.
The admissions data is not a count of the number of people with an allergy but a tally of the number of incidents hospitals have to deal with each year.
The provisional figures show that some hospital trusts have recorded large increases in the number of admissions.
The University College London NHS Trust reported a 10-fold increase in the number of admissions for allergies. In 2015/16 the trust dealt with 1,163 allergy-related admissions compared with just 103 in 2011/12.
The rise in the number of people being admitted to hospital suffering an anaphylactic shock which is a severe form of reaction has been slightly lower. Across England the number of anaphylactic admissions has gone up by 19%.