It is not always known what causes a kidney stone to be formed, although urinary tract infections are often linked to stone formation. Kidney stones are also known as renal calculi are common amongst people between the ages of 30 and 60 years.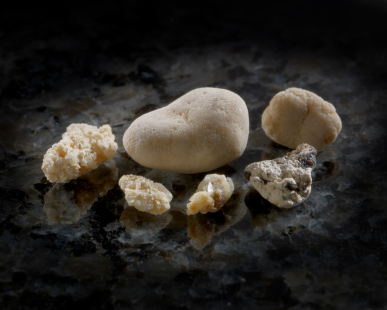 Scientists do not believe that specific foods can cause kidney stones to form, although certain foods may promote stone formation in people who are susceptible. The other principle causes of kidney stones include a family history of kidney stones, kidney disorders such as cystic kidney diseases, rare hereditary diseases such as renal tubular acidosis, and certain metabolic disorders such as hyperparathyroidism.
More than half of patients suffering from kidney stones have inherited high levels of calcium, known as hypercalciuria, which causes crystals to be formed in the kidneys or urinary tract resulting in kidney stones.
Other causes of kidney stones are hyperuricosuria, cystinuria and hyperoxaluria, inherited metabolic disorders as well as gout, excessive vitamin D, and blockage of the urinary tract. Certain diuretics and antacids may also increase the risk of forming kidney stones by increasing the amount of calcium in the urine.
For further information on kidney stones click here for the latest advice from expert Urologist, Mr Leye Ajayi.